Here they are: our brand new, improved, cool STEPS 🔥the latest addition to our Poppy family
Enjoy a careless & fun ride in the streets of Antwerp with one of our 250 new steps!
The perfect vehicle for short distances in the city*, to get somewhere where parking is difficult or simply to cruise for fun 😃
Curious what this improved step offers you? Check this out:
Fully electric ✅
Driving speeds of up to 20 km/h (see that lightning bolt, that's you going fast with our kick scooters) ⚡️
A sturdier and more robust model 💪
A two-legged rest so that they can be parked neatly 🅿
Front and back brakes for even better control 👊
Some specifications
Range up to 60 km
Max load: 125 kg
Max height: 200 cm
Amount of steps: 250
Makes you want to try them out, right? Go ahead with our promo code for a free unlock: POPPYSTEPLOVE, valid until 11/7.
Prices:
€1 unlock fee (see promocode 👆)
0,20€/min driving time
0,15€/min stopover fee
We assure you they're SO fun to drive 🚀
While you're on it, we'd love to see pictures of you with our vehicles (hashtag #spotapoppy. Be careful though 🤕 📷)
Please follow the road code and pay attention to the people and vehicles around you ⚠️ We wouldn't want to see you or others getting hurt 🤕!
How they work 🛴
Get to the step that you booked and unlock it with the app 📲
Then, start moving forward using your foot. Once you have a bit of momentum, start pushing down on the "Go" (1) lever that can be found on the right side of the handlebar. ⚡️
To brake use the brake levers gently. The left handle operates the back brake (2) and the right handle (3) operates the front brake ✊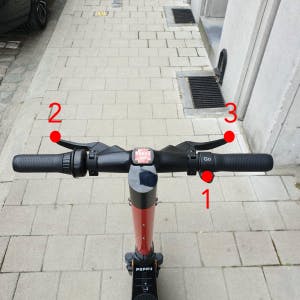 *Our steps can't leave the Antwerp' city centre, marked in dark red on the map below: